Stretch goals are where 70% is the new 100%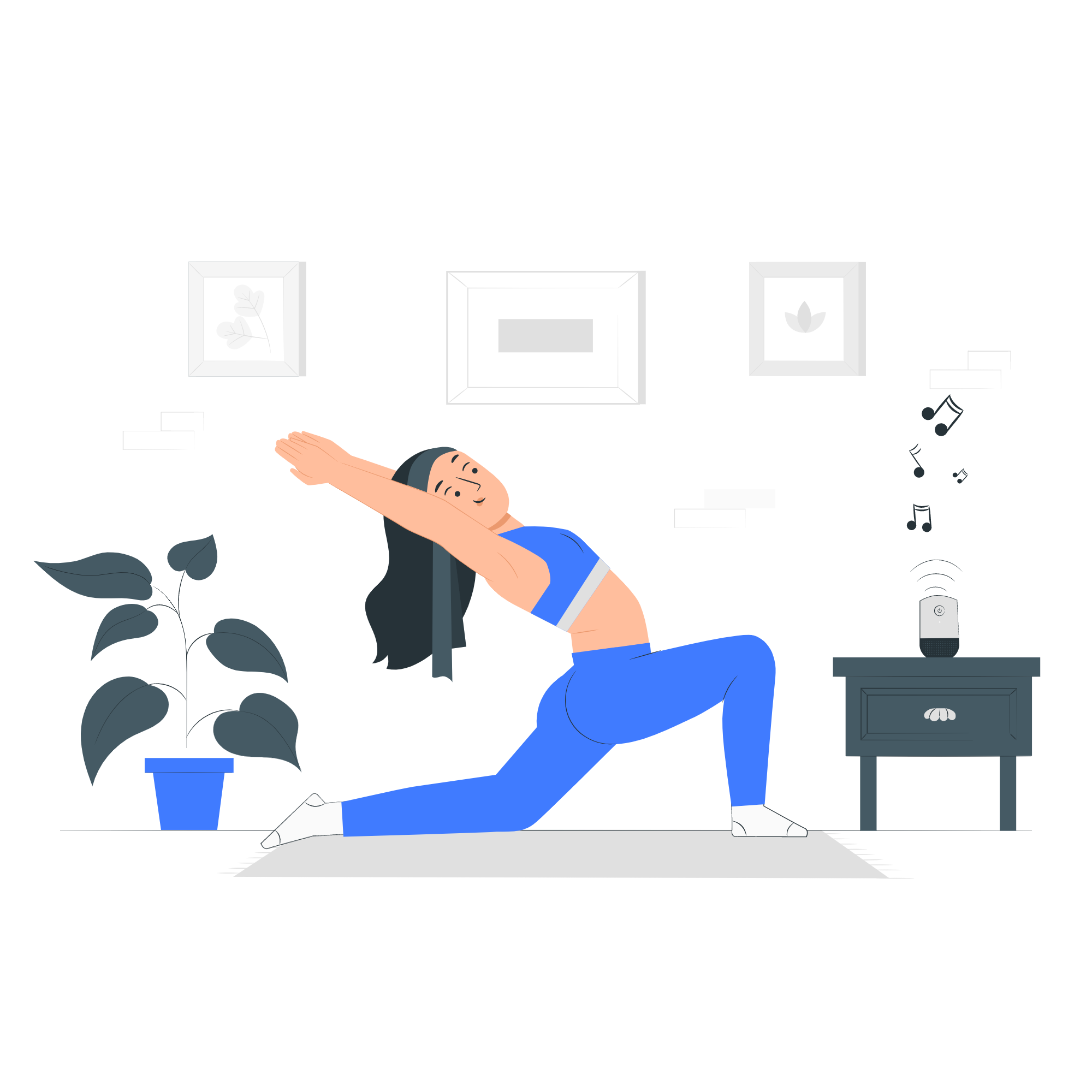 What do you think when it comes to stretching? Imagine you are stretching for a leg split.
As you stretch your legs further apart, the early discomfort gets more intense, which might be even a bit painful if you are not much of a workout person.
Gradually, you would get used to the discomfort, and start to sink down further. Once you have successfully reached the floor in a perfect 180-degree split, you are overwhelmed with the sense of success, now that you have finally achieved something you wouldn't even imagine.
Stretching may feel uncomfortable while doing it, but it makes you feel good afterward, and you are now able to reach places you once could not.
This same analogy applies to stretch goals. Stretch goals are goals that:
push you out of your comfort zone
make you go after goals that you think you cannot reach (yet)
drive you to achieve things you once could not
should be hard enough to motivate, but not as hard as to demotivate you
When you set an ambitious and stretching goal for the team, your team will steer their undivided attention towards it. Such a goal energizes the team while also increasing their persistence. Higher goals lead to greater and more prolonged effort.
But just like how you should take stretching easily at first then start pushing yourself bit by bit each time, stretch goals are not meant to be set so high that your OKRs become unrealistic.
Specific, Measurable, Achievable, Relevant, and Time-bound
SMART is a basic structure that defines how to generate and monitor progress toward goals, unlike other frameworks that address strategy creation, organizational hierarchy, and performance management. SMART and OKR may be compared in this way as two different methods to structure a goal.
Just as the name suggests, the SMART goal consists of 5 parameters:
S - Specific: in order for a goal to be effective, it needs to be specific
what needs to be achieved?
who is the person in charge?
what do you need to do in order to achieve this?
M - Measurable: quantifying your goal makes it easier to monitor the progress
how do you specify your goal with a number?
A - Achievable: this is the ****reality check-point for your goal
is this something your team can reasonably achieve?
R - Relevant: link the goal to the development path you are on, do not get distracted
why are you setting the goal that you are setting?
T - Timebound: to properly measure the success, you and your team need to agree on when a goal needs to be achieved, without a designated time frame, you can easily get distracted
when will you start working on this goal?
when does this goal need to be achieved?
how frequently should we check in on our progress?
Once you have checked off all the parameters, your SMART goal is ready to kick-start.
As SMART goals zero in on specific metrics and precise time frames, they are effective and handy for small goals with defined objectives.
To Stretch or to SMART? Stretch + SMART = Success.
The Good, The Bad, The Stretch, and the SMART
Before getting to why we should pair Stretch and SMART, let's take a look at the pros and cons of each concept.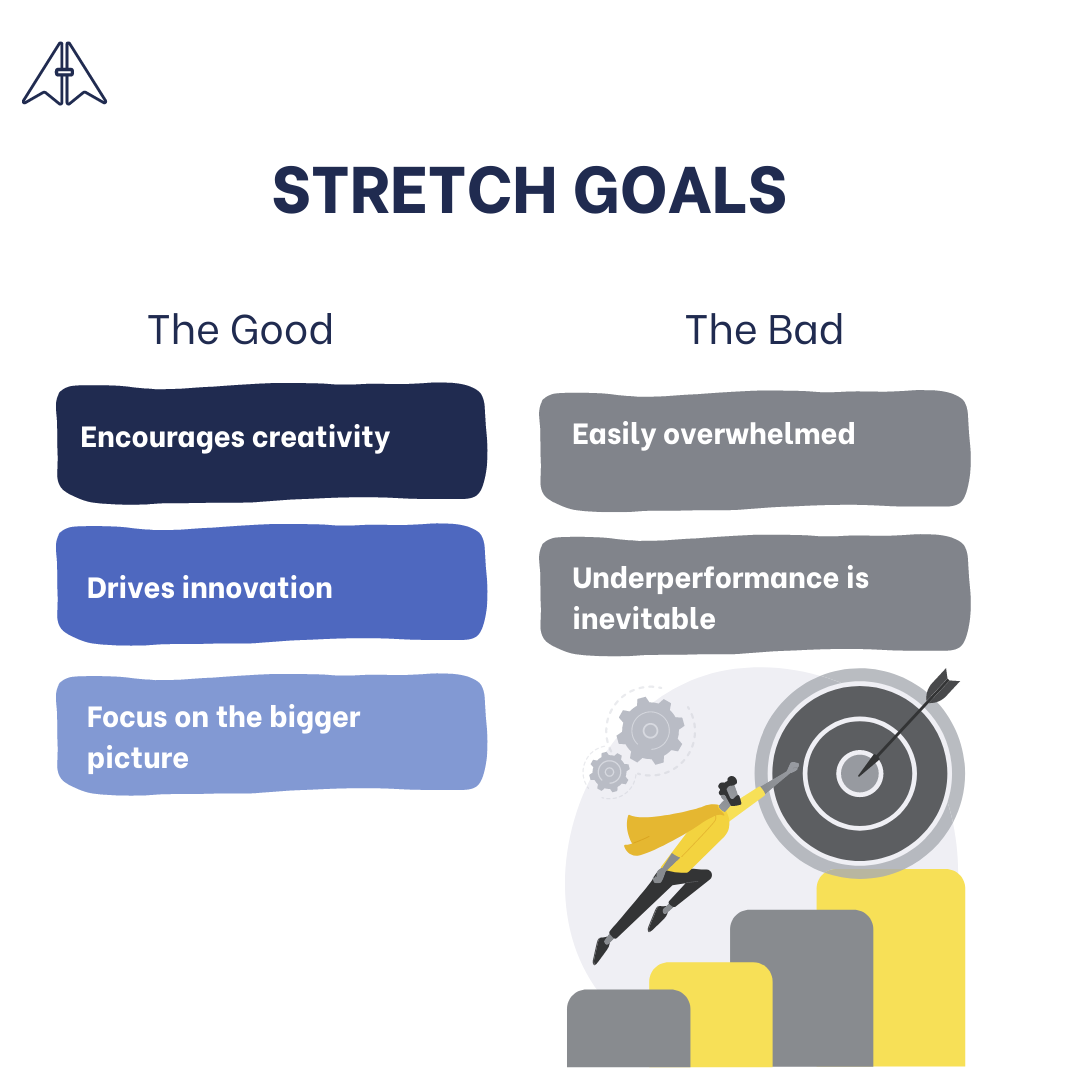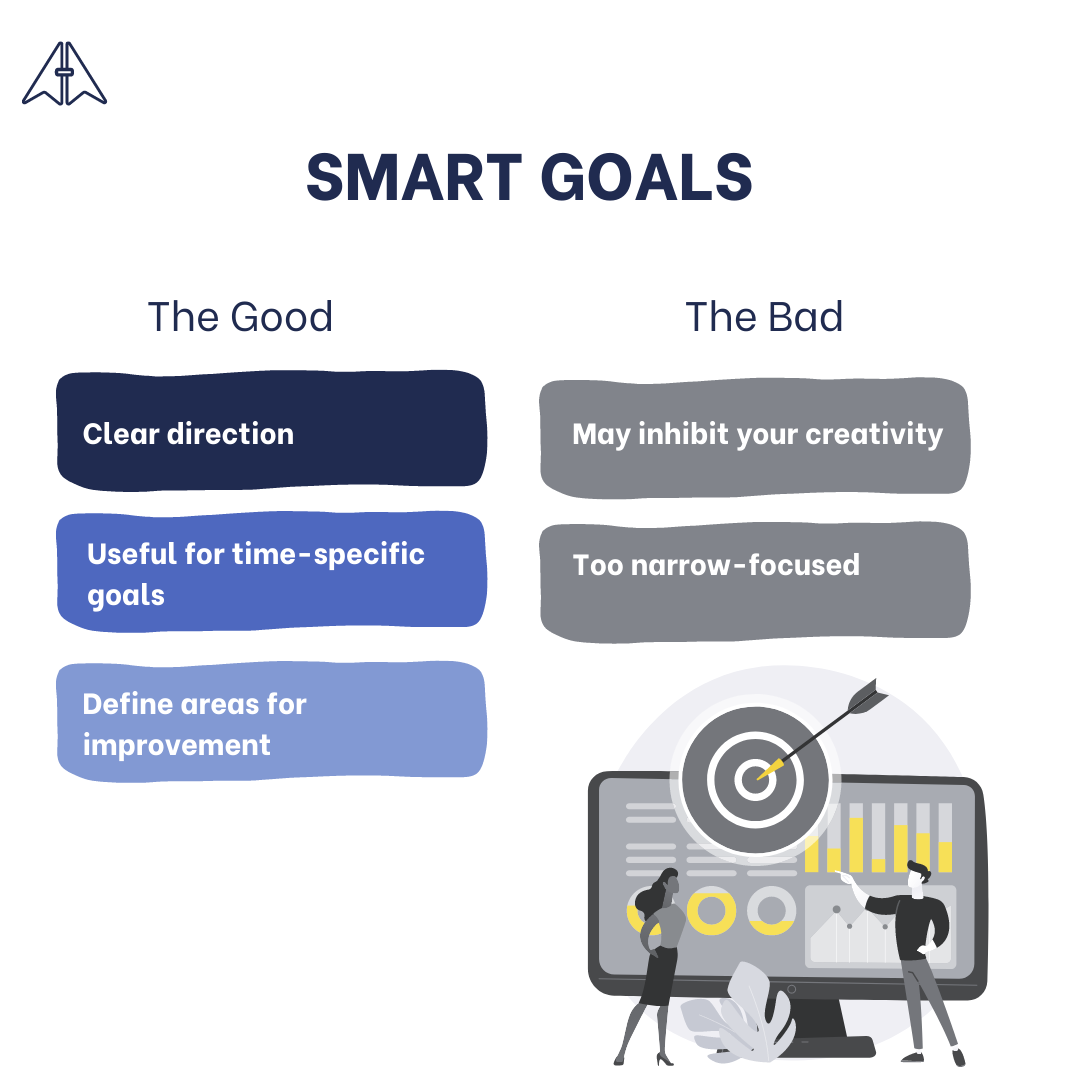 Stretch goals, paired with SMART, can help put the impossible in reach.
The importance of combining Stretch goals with SMART objectives stems from the fact that they serve two distinct – but equally important–purposes:
Stretch goals encourage us to focus on the big picture and remind us to keep our eyes on the prize
SMART goals assist us in developing a specific plan of action to achieve the stretch goal
How to come up with the perfect Stretch + SMART formula
According to Harvard Business Review, moderately difficult goals have the best chance of success, but there is a way to establish attainable goals, while also coming up with some stretch goals that will inspire motivation. Here are some guidelines when combining both Stretch and SMART to your strategy.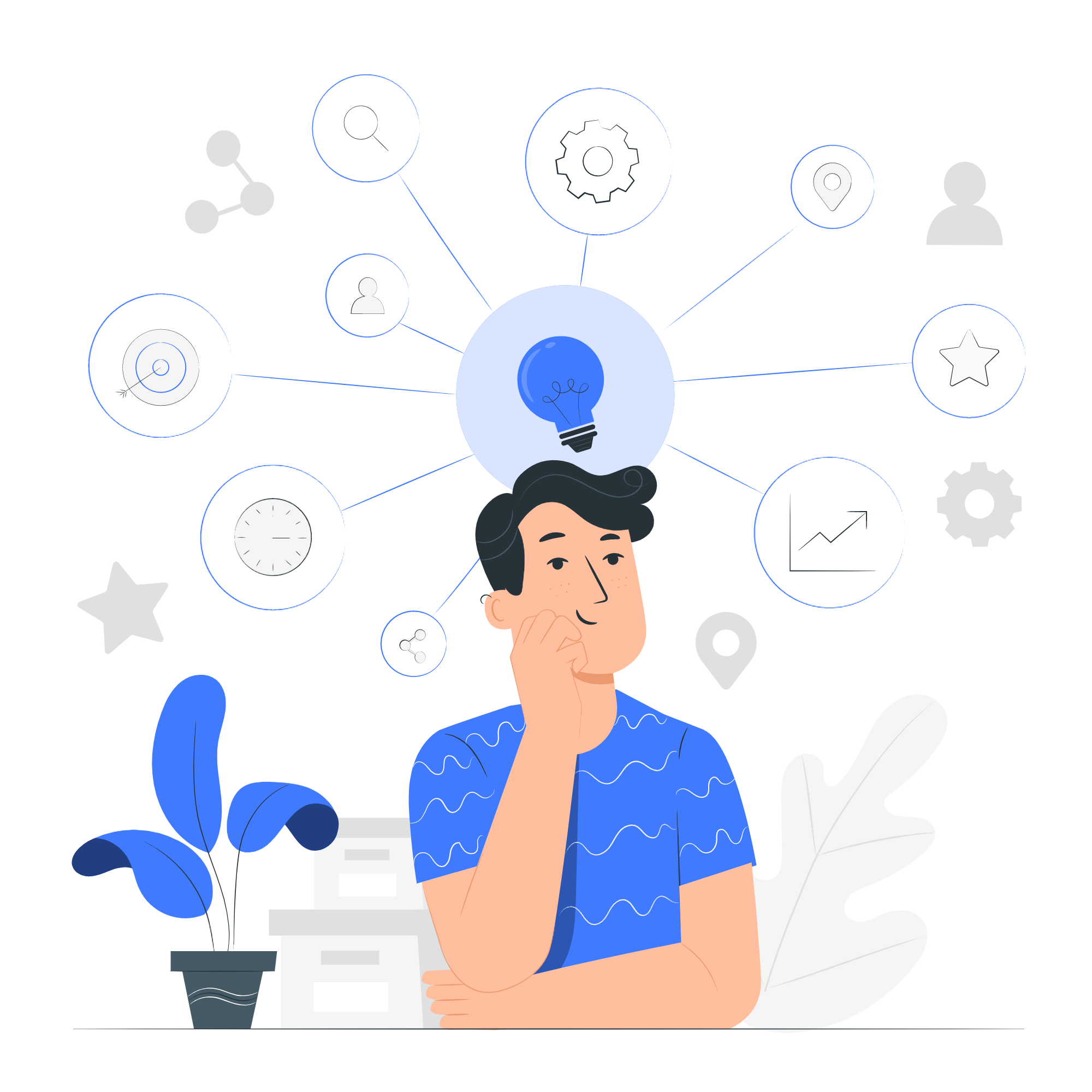 Consider recent performance
Take a moment to evaluate your recent performance. If your team just successfully strikes a hit, then go bold and shoot for the roof. If not, go with more attainable goals to regain that sense of accomplishment for your team.
Don't set goals that are too hard or too easy
No one should be consistently hitting 100% every month. Everyone should always feel there is something to strive for. On the other hand, if your team constantly fails to meet goals, maybe stop stretching too much.
Aim for goals that are always potentially attainable
If the goals are way out of reach, no one will bother trying, the same goes for goals that are too easy. Set goals that stretch your team enough, but not too far that they are unattainable. Motivate your team with recent and continued success.
Set goals by organization, team, and individuals
Goals should be set on both macro and micro levels so that your team can feel a sense of group accomplishment as well as individual success. Be careful of stretch goals for smaller groups that could create too much pressure and undermine results.
Understand resource availability
If your company has a surplus of resources, this is a good time to start reaching for stretch goals, as you are in a better position to learn from your mistakes and bounce back.
Create a culture of "safe failing"
Once you have provided your employees with a psychologically safe environment, they are more capable of breaking through with new ideas and thriving through challenges. Yet when your team members feel inadequate and judged, or even at the risk of losing their job, stretch goals can be intimidating and even reduce work quality and performance.
When in doubt, don't shoot for the moon
Stretch goals require innovative approaches and inevitable risks. You want to focus on a roadmap that gives you a clear sense of where you have been and where you are headed. So if you are in doubt, let the SMART parameters guide you to a clearer path. When focused on small goals, you can build momentum, energy, and foster an environment of success, and then you are ready to take on the bigger picture.
Not all of your OKRs need to be moonshots, but some of them must be the fuel to your team's innovation. While it is good to dream big, it is also essential to follow a path with a clear vision and check off small, but steady milestones as you walk through them. Stretch goals, paired with SMART, can help put the impossible in reach.