Over the years, Vietnam is rapidly becoming a leading IT outsourcing market — with its high-quality workforce and affordable IT services, Vietnam's outsourcing industry could potentially rival the likes of China and India.
Let's discover how Vietnam can compete with its neighboring tech hubs through the following numbers.
An overview of the IT industry in Vietnam
According to Google, Bain, and Temasek's report, Vietnam's digital economy achieved an impressive milestone by having the highest growth in Southeast Asia in 2022, with a 28% increase from 2021.
A closer look at some numbers shows how much the country is prospering as a technological powerhouse.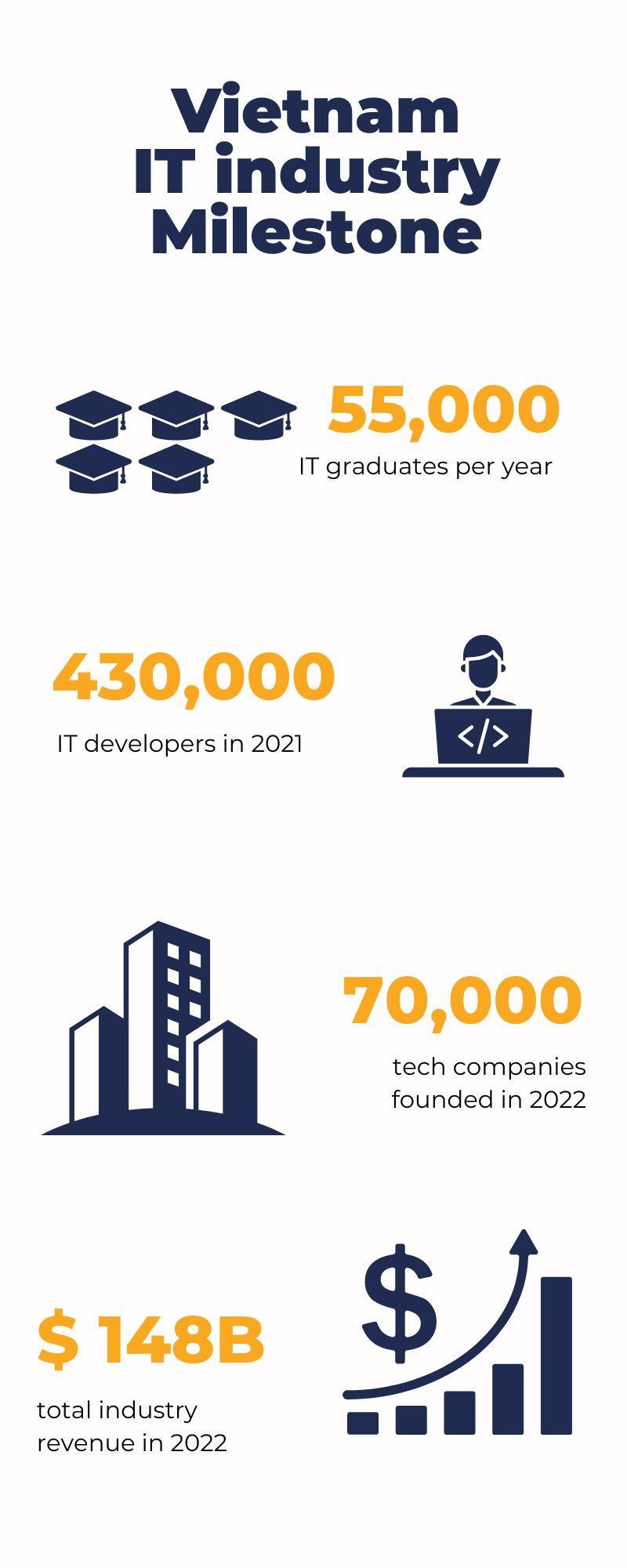 Currently, many tech giants such as Intel, IBM, Samsung, and Microsoft are already invested in Vietnam, a good sign for the country's growing industry.
Reasons behind the growth
But among the many tech centrals that have been surging across the APAC region in recent years, how could Vietnam distinguish itself?
To start with, Vietnam has one of the fastest-growing economies among Asian countries, in part due to its extensive market-oriented and outward-looking economic policies. In 2022, Vietnam managed to grow its GDP by 8.02%, the biggest in 25 years – attracting the interest of more international companies.
In particular, the IT industry is incentivized by government regulations and policies to boost development. Some examples of these policies were the recent Make-in-Vietnam strategy in 2019 and a preferential tax rate of 10% for 15 years – encouraging investments in the industry.
Taking a closer look at the human factor, we can see that Vietnam has a large population of young people — giving the IT industry an advantage by providing energetic workers that are quicker at adapting to new standards.
Vietnam — a top offshore development destination in Asia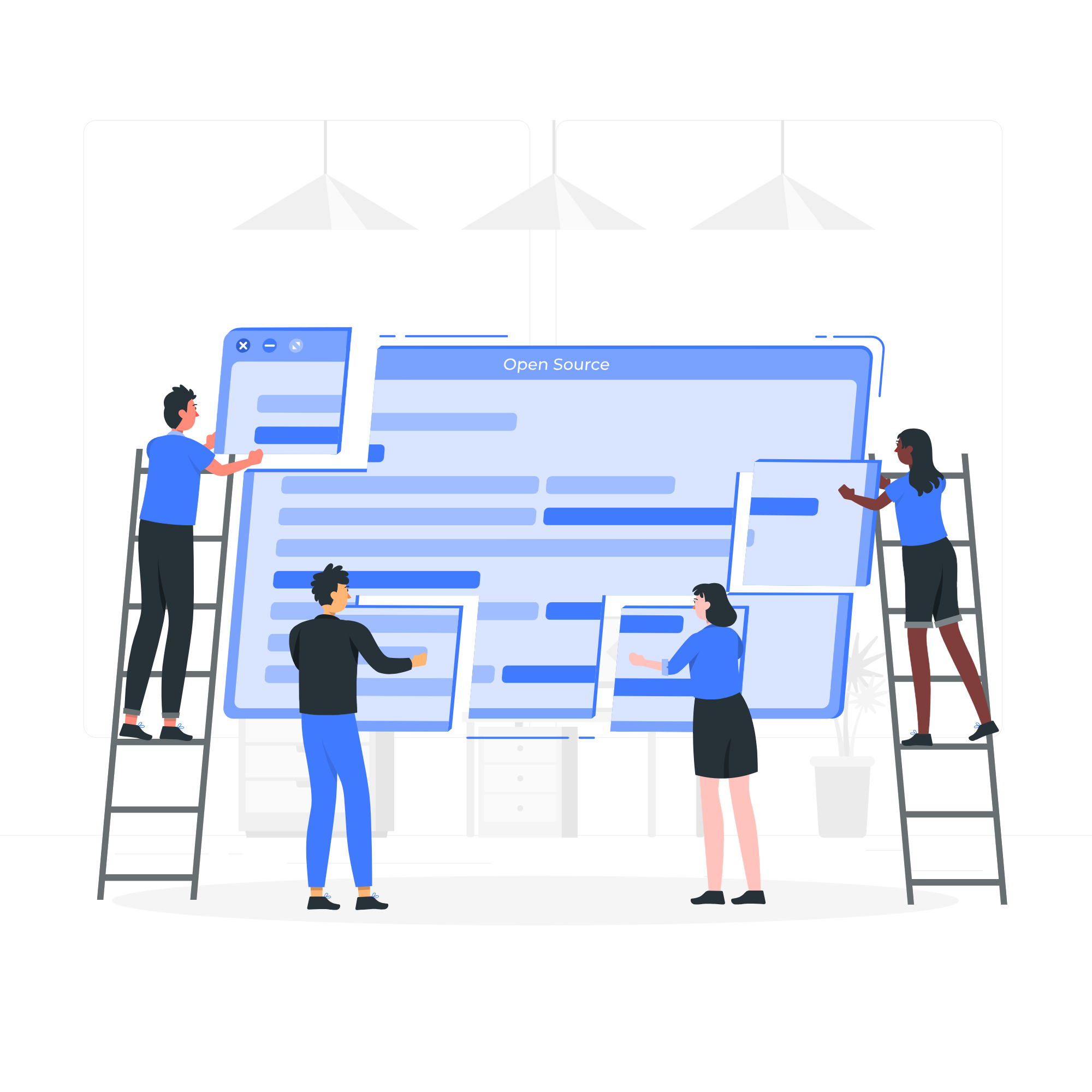 Outsourcing in Vietnam has become a viable option for many tech companies — allowing the local industry to achieve a positive growth rate in recent years — becoming the eighth-largest IT service provider in the world in 2019, according to Vietnam Briefing.
When we take a closer look, the industry has some unique advantages that could distinguish Vietnam from its neighboring competitors.
High expertise and diverse skillset
One of Vietnam's strongest advantages lies in its young and dedicated workforce, capable of adapting to a variety of tech stacks to produce high-quality products. In fact, when compared to other countries, Vietnam has managed to achieve:
Top 6 worldwide in Topcoder's 2016 Developers Skill Charts
One of the two leading software outsourcing destinations in SEA according to Accelerance
Rank 2nd In Asian Pacific and 22nd worldwide by Coursera's 2020 Global Skills Index
While coding quality is still a factor that holds Vietnam back from surpassing the likes of India, in reality, it is only by a small margin. Proper investments in education and infrastructure will be the key for Vietnam to rectify this problem.
On the other hand, Vietnamese developers are proficient in a large variety of coding languages, with some of the most popular ones being JavaScript, Kotlin, Flutter, Golang, and Python, according to a 2022 TopDev report.
Ease of collaboration
According to a 2022 EF English Language Proficiency Index, Vietnam is moderately proficient in English — with a much higher number of English speakers among local tech talents, making the language barrier a non-risk for most outsourcing firms.
Moreover, Vietnam's friendly and hospitable business climate makes it a popular spot among foreign ex-pats, who introduce various work cultures to the country, particularly around its three largest IT hubs — Hanoi, Da Nang, and Ho Chi Minh.
This allows the local workforce in many industries, including IT, to learn and adapt to other work cultures — making better collaboration between foreign in-house teams and Vietnamese offshore developers.
Attractive pricing
Vietnam offers a more affordable business cost compared to popular outsourced providers such as India, China, Central Europe, and Eastern Europe – mainly because of the country's low labor cost.
According to a report by Recruitery, Vietnam has the second-lowest operating costs of any SEA nation, coming in at a minimum of $79,280 per month, just behind Cambodia. This makes Vietnam a desirable offshore location for businesses in expensive tech hubs like Western Europe, the U.S., and Singapore.

The average annual salary for software developers in Vietnam, India, Philippines, and Singapore. Source: Remote Hire
Conclusion
With all of the above, Vietnam has the potential to become a major player in the global tech market — its local outsourcing industry contributed immensely to this development by providing foreign tech enterprises with a cost-effective and high-quality alternative to their software development problems.
If you are looking to take advantage of this development, then let FABA Technology helps you find the most optimized solution by clicking here.